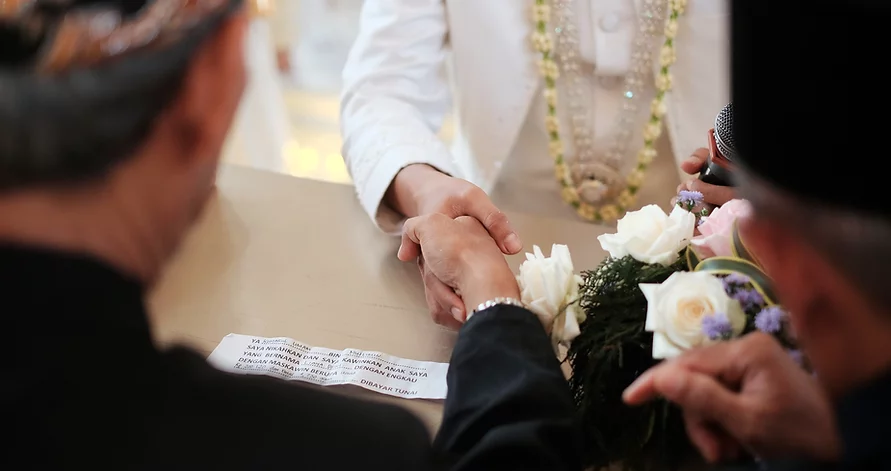 The United States has strict immigration laws that make bringing your spouse or fiancé here for permanent residency seem like an impossible task. But when you retain experienced immigration lawyers, you will soon learn that hope is not lost and real help is available.
Martinez Immigration provides the immigration advice and legal support transnational couples need to keep them together under United States law. From our base of operations in Texas, we offer virtual immigration law services across the country. You don't even have to come to our office. Call today and speak to a friendly member of our Spanish and English-speaking team. We look forward to helping you get a marriage visa as easily and efficiently as possible, so you can begin the rest of your life.
Book your virtual consultation with our immigration experts today.
U.S. citizens may petition for their foreign-born spouse to live permanently in the U.S. There are three types of visa applications for this: 
Immigrant Visa for a Spouse of a U.S. Citizen (CR1) married less than two years.

Immigrant Visa for a Spouse of a U.S. Citizen (IR1) married two years or more.
K-3 Visa allows spouse a U.S. temporary stay while immigration is pending.
The CR1 Visa grants a spouse conditional residency for two years. The spouse may work within a few months after arrival. During the two-year conditional period the foreign-born spouse must apply for permanent residency or face a mandatory return to their home country. The couple will also be obligated to an interview to prove that they have a real marriage, rather than a sham designed to skirt immigration laws. 
The IR1 Visa grants immediate, conditional permanent residency to a foreign-born spouse. The foreign spouse must be married to an American citizen for at least two years in order to be eligible. An immigrant spouse on an IR1 Visa may begin working right away and may hold permanent resident status as soon as the visa is granted. 
Book your virtual consultation with us today.
Marriage Visa Eligibility
The initial CR1 application must be made by the American spouse. The overseas spouse will present documents to their consulate. The application must show a legal marriage, and that the American spouse is employed and can support the emigrating spouse.
You may need to provide several documents along with your application to clear any hurdles. For example, if you or your spouse had a prior marriage, provide proof of divorce. The American fiancé must show proof of income. Without the advice of a marriage immigration lawyer, you can run the risk of making an incomplete application that will be rejected.
What is a 1-130 Petition?
An I-130 Petition is the first step a current U.S. citizen can take to help an eligible spouse gain citizenship. To approve the petition, U.S. Citizen and Immigration Services wants to see proof of a relationship between you and your spouse. Once that petition is approved, your spouse can apply to become a lawful permanent resident. Your immigration lawyers will make sure that you have submitted the necessary documents to establish the legitimacy of your marriage.
An I-130 petition must supply supporting documentation, including: 
Photographs
Joint bank records
Life insurance policies
Joint filings of tax returns 
Receipts of joint purchases
Lease or other property records
Utility bills in both partners' names 
Documents showing spousal name change
Birth certificates from any children of the marriage 
Written statements by individuals familiar with the marriage 
A USCIS officer may want to interview you. A marriage immigration lawyer at Martinez Immigration can help you prepare for this interview, so you will know what kind of questions to expect. During the interview, you will be asked detailed questions about the marriage in order to validate the credibility of your union. 
Contact us today to book your virtual consultation.
K-1 Visas for Fiancés and Fiancées
A K-1 nonimmigrant visa can be issued to a foreign citizen who is engaged to be married to a U.S. citizen. The K-1 visa allows a fiancé or fiancée to travel to the United States and marry the person to whom they are engaged within 90 days of their arrival in the country. Once they have married the U.S. citizen, they then apply to become a Permanent Resident with the USCIS.
Your fiancé or fiancée cannot petition for a K-1 visa on their own behalf. To obtain a K-1 visa for your partner, you must meet several requirements such as:
No major criminal history
Petitioner is a citizen of the United States
Spouses met in person  
Petitioner and spouse is legally free to marry
Petitioner has the ability to financially support your fiancé or fiancée.
The guidance of a fiancé visa lawyer can really help build your partner's record of required proof and documentation without unnecessary delays. 
Questions to Ask Your Marriage Visa Lawyer
Sometimes it's hard to know where to begin when you arrive for your first consultation with an attorney. True seasoned professionals know this, and that's why we make sure to go over everything we can think of during that initial meeting. Just make sure you have clear answers as to the following questions:
What kind of visa is right for our situation?

What documents will my spouse need to gather?
What documents will I need to gather for the visa?
How long will take for my spouse/finance to get their visa?
Will the spouse visa also cover my spouse's children?
What are all of the costs involved in the spouse visa process?
If Your Marriage Visa is Denied, You May Appeal
Generally speaking, a complete, thoroughly documented marriage or fiancé visa application has a good chance of succeeding. However, denials do happen either by the foreign spouse's consulate or the USCIS. While disappointing, you may file a Notice of Appeal for a full review by the Board of Immigration Appeals. 
Working with an experienced legal lawyer is the best way to avoid having to appeal your application in the first place. It is also your best option for winning it. Denials are often a result of a clerical mistake or omission of an important document. Your attorney will review the entire record, help procure whatever information is lacking, and present evidence that can reverse the Board's decision. 
Book your virtual consultation with us today.
What to Look for in a Marriage Visa Lawyer
Listening skills are of paramount importance when it comes to choosing the right attorney for you. In consultation with your attorney, you need to feel comfortable sharing information about your spouse, your marriage, and your future plans. You should also look for someone who respects your time, communicates clearly, and checks in with you regularly with status updates and what to expect next.  
Martinez Immigration Keeps Couples Together
Martinez Immigration is a women-led law firm with national reach and a sole focus on immigration law. Our founder Kathleen Martinez is passionate about the firm's mission: to treat every marriage visa client with respect and the concern they deserve. Kathleen and her devoted staff will help you and your life partner gain the appropriate visa status you need to start your new life together. Book your virtual consultation now with the Martinez Immigration experts. We are eager to hear from you wherever you live in the U.S. 
No Matter What your immigration needs or questions are…
We take great pride in providing immigration services to our clients. Our mission to reunite families drives us to succeed.