Notary Public Immigration Services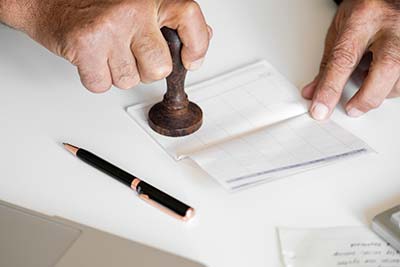 ¿Tienes notario publico? Ou bezwen yon notè? Martinez Immigration is ready to help if you require the services of a notary to verify your immigration documents. We are certified, bonded, and insured to provide notary public immigration services and can further assist you in any way to correctly prepare and file your documentation. We're here to simplify and clarify this process and help you achieve a successful outcome in your immigration journey.
Need to notarize your immigration documents? Book a virtual consultation with Martinez Immigration!
Book a consultation with our
team
today!
Why You Might Need Notary Public Immigration Services
The primary purpose of a notary public is to help prevent fraud, identity theft, and forgery. While you no longer need to have a translated birth certificate notarized in order to proceed with immigration In the United States, there are a number of other reasons you may require a notary:
Car titles or loans
Mortgage deeds
Court affidavits
Wills and trusts
Affidavit of support
In some cases, a notarized copy of your passport or green card is necessary. If so, you'll have to pay a small fee (typically limited to $6 or less under
Texas Government Code 406.024
) to have your document copy rubber stamp certified and your signature witnessed by a notary.
Book a consultation with us
today!
What Should You Bring to An Appointment With a Notary?
You must come into an office to have a document notarized and may not presently obtain notary services by phone or email. To avoid long wait times, it is always best to call ahead and make an appointment for immigration notary services. Bring the documents you need notarized. 
You should also bring a government-issued photo ID such as a driver's license, non-driver's license, military ID, or U.S. passport. You should also bring two forms of non-photo ID (such as an insurance card or birth certificate). 
Does the Notary Have to Be an Attorney?
While you do not need an attorney to supervise the notarization of every document, you may find it helpful to choose a law office for comprehensive immigration notary services. 
Contact us to book a consultation
today!
What can a notary do in the United States?
In the United States, public notaries receive no legal training and are not allowed to provide any legal advice. Requirements may stipulate that the notary is someone who is at least 18 years of age, a legal resident of the state, and someone who has not been convicted of a felony. A three-hour educational course, a small fee, and a few financial protections are all anyone needs to offer notary service. 
To avoid delays and fees in the processing of your documents, or even deportation, you'll want to steer clear of anyone posing as a "visa consultant" or "immigration consultant," as they may not be qualified to give legal advice and services.
On the other hand, as long as attorneys are properly certified, bonded, and insured to offer notary services, they may do so—in addition to helping translate and explain the contents of a legal document, and giving specific legal advice on how to proceed with your immigration matter. 
Book a consultation with us
today!
Notary and Immigration Law Services in Texas
Martinez Immigration provides a full range of immigration law services to immigrants and non-immigrants throughout the country. From visas, passports, naturalization, and citizenship to bonds, parole, pardons, and more, we offer affordable, compassionate service to help you determine the best path forward. Contact us today.
No Matter What your immigration needs or questions are…
We take great pride in providing immigration services to our clients. Our mission to reunite families drives us to succeed.