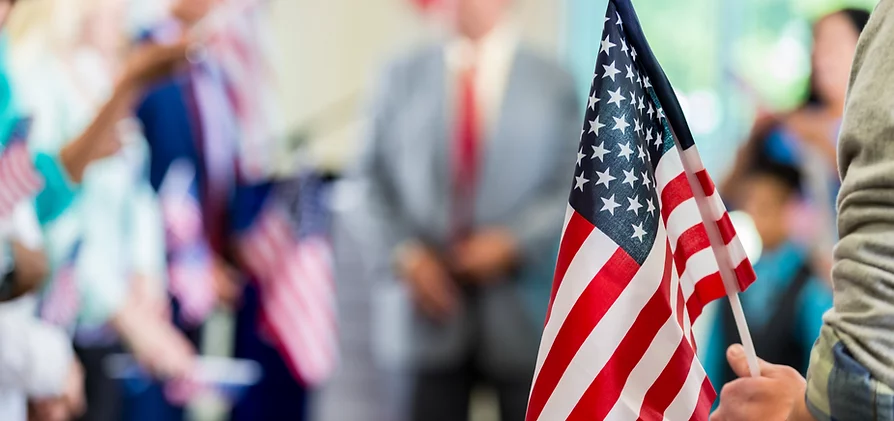 Naturalization is the process by which a lawful permanent resident can become a United States citizen. It is the most significant immigration benefit our nation offers. Moving from a green card holder to becoming a citizen of the United States is a big step, one that shouldn't be taken lightly. 
If you are a lawful permanent resident of the United States who would like to become a U.S. citizen, the Texas-based naturalization lawyer at Martinez Immigration, can provide you with experienced advice and representation for the naturalization process. Immigration attorney Kathleen Martinez and the dedicated team at our law firm understand the many paths to obtaining citizenship and will help you discern whether you are eligible to become a citizen through naturalization. We serve clients in Dallas, Texas, and surrounding cities.
Keep reading to find out how the naturalization process works and why an experienced naturalization attorney is important if you're seeking citizenship. 
Start your journey to citizenship today! Book a virtual consultation with Martinez Immigration!
Eligibility Requirements for Naturalization
The United States Citizenship and Immigration Services (USCIS) has welcomed more than 8 million people as naturalized citizens over the past decade. Naturalized citizens have virtually all of the same rights as native-born citizens. To join them, you must meet specific eligibility requirements outlined in the Immigration and Nationality Act. 
To apply for naturalization, an applicant must: 
Be at least 18 years old

Be a lawfully admitted permanent U.S. resident 
Have been physically present in the U.S. for at least 30 months before applying
Have been a lawfully permanent resident (a Green Card holder) living in the U.S. for at least five years
Be able to read, write and speak English
Understand the fundamentals of the nation's history and forms of government 
Demonstrate commitment to the principles of the Constitution and the "good order and happiness" of the nation
Be of good moral character
Be able and willing to take the Oath of Allegiance 
Book a virtual consultation with Martinez Immigration and start with your best foot forward.
Exceptions to Naturalization Eligibility Requirements
There are some exceptions to the eligibility criteria listed above. For example, U.S. military members who serve honorably during times of conflict for at least a year or serve while stationed abroad may be exempt from general residency and physical presence requirements. 
Keep in mind the guidelines regarding naturalization are highly complex. Exceptions and rules are nuanced and may vary from case to case. The best way to determine your own eligibility is to meet with our team from Martinez Immigration, which specializes in immigration law services. 
What Are the Benefits of Citizenship for Green Card Holders?
If you are currently a lawful permanent resident, you might question if it's worthwhile to pursue this intensive process of naturalization. Of course, only you know what is best for you and your loved ones. However, here are some benefits of citizenship to consider. 
As a naturalized United States citizen, you have greater access to social welfare benefits. You can vote in all state and national elections. You can travel out of the country with a U.S. passport. It will be easier for a lawful permanent resident's spouse to become a citizen, and bringing family members to the U.S. takes less time. 
United States citizenship is also meaningful. The swearing-in ceremony is a moving testament to your dream and determination to become a citizen of this nation. 
Start your journey to citizenship today! Book a virtual consultation with Martinez Immigration!
Possible Obstacles to Naturalization
Even if you meet all of the eligibility criteria for naturalization, some conditions and circumstances may still prevent you from becoming a U.S. citizen. 
You may be denied U.S. citizenship if:
You have a criminal record: Generally, more serious crimes like aggravated felonies and murder convictions will result in a denial. 
You are behind on alimony or child support: This falls under the category of "good moral standing," as the USCIS expects payments to be made in full and on time.
You owe taxes: Paying taxes on time shows the USCIS you are trustworthy and responsible. Unfortunately, financial struggles are sometimes a fact of life. If you cannot pay your taxes, contact an immigration lawyer and tax adviser for guidance.
Your application is fraudulent: All information on your Form N-400 Application for Naturalization must be accurate and truthful. Errors may be construed as an attempt to falsify your application and increase the chance of denial. 
You do not meet physical presence requirements: Before you apply for naturalization, you must be a continuous resident for the specified amount of time–based on the conditions of your stay. 
You fail your civics or English test: It is important to prepare for the civics exam and spoken interview, which take place at your in-person appointment with a USCIS examiner. However, if you don't pass the first time, you can retake them. Your application may be denied if you fail a second time.
Again, because everyone's circumstances are unique, it's best to speak with an immigration lawyer if you are concerned about your application being denied. 
Book a virtual consultation with Martinez Immigration and start with your best foot forward.
The Naturalization Process: An Overview
Prepare Form N-400. Once you and your immigration attorney have determined you meet the eligibility requirements for naturalization, it's time to prepare your application Form N-400. To do this, you need to create an online USCIS account and file your application along with any supporting documents required to demonstrate your eligibility. 
Submit Your Application Form N-400. Once your immigration attorney has reviewed your application and confirmed it's accurate and complete, you'll submit it online. Two passport-style photos and service fees are also required. After submitting your application, you'll receive a confirmation receipt. You can check the status of your case and processing times online at USCIS or contact your immigration firm for updates. 
Attend Biometrics Appointment. The FBI and USCIS require some applicants to be fingerprinted and photographed for criminal background checks. If you have submitted these before, they may be used again. You will receive a notice with an appointment date if these are not on file. Attend your appointment and submit your biometrics, if applicable. 
Complete Your Interview. The next step is an interview at a local USCIS office. You will receive a notice with your interview date, time, and location. It's essential to attend. If you must reschedule for any reason, let your attorney know. Just be aware that doing so may delay the process by several months. During your interview, you will meet with a USCIS officer, answer questions about your Form N-400, and take your English and civics exams. In some cases, you will receive a decision on your application immediately following your interview. Other applicants may be asked to submit additional documents or attend another interview. 
Receive a Decision. If your application is not continued, you will receive a decision on your Form N-400 Application for Naturalization. Naturalization is either granted or denied. 
If your application is approved: You will receive a notice in the mail with the date, time, and location of your oath ceremony. You are not considered a U.S. citizen until you take the Oath of Allegiance to the United States. Once this is complete, you will receive your Certificate of Naturalization. (Always check your certificate to ensure the information is correct before leaving the ceremony.)
If your application is denied: You will receive a notice from USCIS explaining why your Form N-400 was denied. You'll also receive instructions for how to appeal the decision if you choose to do so. 
Start your journey to citizenship today! Book a virtual consultation with Martinez Immigration!
How a Naturalization Attorney Can Help You
This is a basic overview of how someone with a Green Card would apply for citizenship. It can be a much more complex process depending on your needs, status, employment, and family situation. 
When you work with us at Martinez Immigration, which focuses its practice solely on immigration matters, you have peace of mind knowing an experienced advocate is in your corner. Your attorney can assess your situation, determine your eligibility, and oversee the Form N-400 application process. 
Your case might be more nuanced and require someone to represent you during the naturalization process. If you've failed to pay taxes, been arrested, have a criminal record (even if it's been expunged), or experienced difficulties in your marriage, it's unlikely that you'll become a naturalized citizen without help.
Our team can help build your case, find testimonies from people that can speak to your good character, assist with any interview preparation you might need, and follow up on your application for naturalization with any necessary appeals.
Headquartered in Allen, Texas, Martinez Immigration is a bilingual firm representing clients throughout the Dallas-Fort Worth Metroplex and nationwide. Ready to become a US citizen? Contact us today to schedule a consultation.
No Matter What your immigration needs or questions are…
We take great pride in providing immigration services to our clients. Our mission to reunite families drives us to succeed.