Spanish and English Immigration Translation Services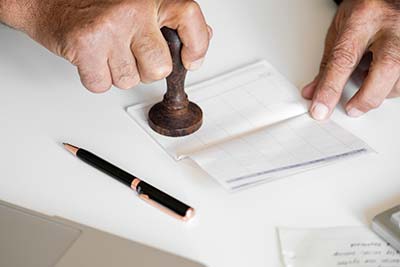 Spanish and English Immigration Translation Services
When you or your family members are immigrating to the U.S., poorly translated documents can delay the process or even disqualify your immigration candidacy. Why run this unnecessary risk? Martinez Immigration provides fast, accurate, affordable Spanish and English Immigration Translation Services. 
Having quality Spanish-English translations of important immigration papers will help streamline the process, create transparency for all parties involved, and increase the likelihood of a successful outcome.
Book a consultation with our
team
today!
Why is Choosing the Right Immigration Translation Service Important?
When choosing a firm for Spanish English translation services, quality should always be a top priority. After all, these documents will be used to determine your eligibility for citizenship or residency status. If even one key word is mistranslated, it could have serious implications.
There are a few primary reasons why choosing the right immigration attorney matters so much when it comes to translation services:
Accurate translations are essential in ensuring that people can successfully navigate the immigration process.
Poor quality translations can reflect poorly on the individual or organization requesting them.
Small mistakes can cause big trouble, such as making it difficult to obtain future services from other providers.
Error-filled translations can create confusion and frustration among those who need to use them.
To avoid any of these potential problems, you must work with a reputable document translation service that specializes in translating immigration-related documents.
Commonly Requested Immigration Documents We Translate
There are many documents that require translating when navigating the immigration process. Some of these documents include, but are not limited to:
Birth certificates
Marriage certificates
Divorce decrees
Employment records
Financial records
Health certificates
Diplomas and other academic records
Schedule your virtual consultation today
!
Certified Immigration Documents
A certified translation is a document that has been translated by a professional translator and then reviewed and signed by the translator to certify that it is accurate. Certified translations are often required for official purposes such as immigration, visas, legal proceedings, and college applications.
Not all translations need to be certified, but it is important to check with the relevant authorities to see if a certified translation is required in your specific case. Martinez Immigration provides certified immigration documents for our clients.
If you need a certified translation, contact us for a virtual consultation today.
How to Ensure You're Working with the Right Spanish English Translation Service Provider?
Whether you are an English speaker or a Spanish speaker seeking immigration services, you deserve the help of meticulous translators who get the job done right the first time. Here are some things to look for to ensure you are getting the best possible service:
Look for a Spanish and English translation lawyer who is experienced in immigration law. This will ensure that they are familiar with the specific terminology and documents required for your case.
Make sure the lawyer you choose offers a free consultation. This will give you a chance to discuss your case and get a feel for their level of expertise.
Ask for references from past clients. A good lawyer should be able to provide you with positive feedback from clients they have helped in the past.
Check online reviews. Take some time to read online reviews of Spanish and English translation lawyers in your area before making your final decision.
Contact us for a free virtual consultation today
!
Martinez Immigration offers high-quality document translation services for immigration. Our clients are our priority, and we're ready to facilitate your case no matter where you live. Contact us today to speak with a virtual immigration lawyer.
We take great pride in providing immigration services to our clients. Our mission to reunite families drives us to succeed. Contact us today to book a free consultation.